Frequent readers know I have voiced my concern about fluorinated organic compounds, especially those containing aliphatic fluorides, from time to time. New fluorination recipes pop up all of the time, and more and more pharmaceuticals contain one or several very stable C-F bonds, which may or may not spell trouble for future generations. In the light of this, it is encouraging to see that people are indeed making progress in tearing C-F bonds apart too.

I very much enjoyed reading this recent article, Org. Lett. 2012, ASAP (DOI: 10.1021/ol300977f), in which the authors demonstrate several different ways of turning aliphatic fluorides into leaving groups; in this case benzylic ones.
Under palladium catalysis, it was possible to knock out benzylic fluorides with carbon, nitrogen, oxygen and sulfur nucleophiles, in good to excellent isolated yields. That is pretty impressive. The substitution seems to proceed by retention of configuration, which may shed some light on a plausible mechanism, as when a chiral benzylic fluoride upon treatment with morpholine as a nitrogen nucleophile produced an enantio-enriched product.
Moreover, the authors show that benzylic fluorides can effectively be used as coupling partners in Suzuki type reactions, which further broadens the usefulness of the compound class.
A totally awesome example of site selectivity is demonstrated in Scheme 2 (middle versus bottom rows).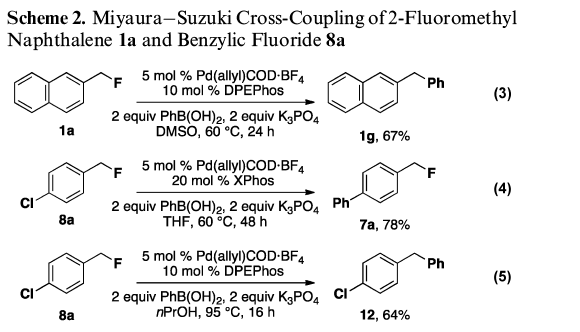 I can really recommend reading this paper. It is great.