Any chemist with access to the internet cannot possibly have missed the developing story of the Dorta Paper, summarized by this picture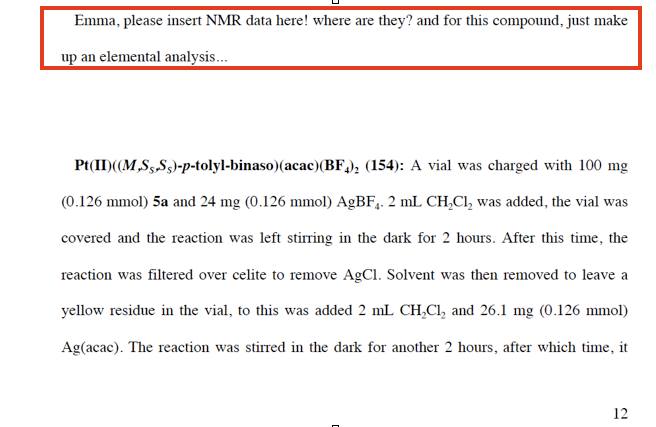 From the SI of: Organometallics 2013, Article ASAP (DOI: 10.1021/om4000067)
and in this post over at ChemBark, which is being updated as the story unfolds – keep an eye on it.
Many things have gone wrong here, no doubt. For example, I don't for a second buy that "make up" means anything else than fabricate. Apart from the corresponding author, who in my humble opinion has a lot to explain, I think several people have made a number of mistakes. A couple of days ago, I expressed my feelings in a comment to the ChemBark post.
DrFreddy Says:
August 14th, 2013 at 12:47 PM

Shame on the community. Shame on the Professor! Shame on the editors. Shame on the reviewers…

As for Emma though, I feel her pain. I've been thinking about putting up a donation fund for a gift basket or something to be sent to her. It's almost like I wish she left those sentences in there on purpose. My gut feeling says she's clean. But let's see what the future holds. Exciting is perhaps not the proper word.
And this morning I got the most heartbreaking email from Emma Drinkel's mother. With Mary-Anne's permission, I'm re-posting it here in its entirety for all to read and draw their own conclusions.
From: Mary-Anne Drinkel [mailto:[email protected]]
Sent: 15 August 2013 21:04
To: Fredrik von Kieseritzky '[email protected]'
Subject: Emma Drinkel – the Dorta Affair

Dear Dr Kieseritzky

I hope you don't mind me contacting you, but I would just like to thank you for your comment on ChemBark. My name is Mary-Anne Drinkel, and I am mother of Emma. We are very proud of our daughter she has worked hard and conscientiously to earn her first class degree at Durham, her PhD at Zurich, and presently her Post doctorate work in Brazil- we know that fabricating data would be alien to her. I cannot believe that her good reputation, built up over these years can be destroyed in a week. I know nothing of the academic community, but the hostile and aggressive comments left on the blog sites are unbelievable. I don't know if Reto Dorta was careless or has done a very bad thing, but I do know that Emma is the innocent party in this affair. How many PhD thesis could withstand the hostile scrutiny that Emma's has been subjected to, with these bloggers determined to find evidence of wrongdoing – boasting about who broke the news first.

Emma's husband has a new industry position in Switzerland, and they will be moving back to Europe very soon; this means Emma will be applying for jobs – she fears this affair will affect her chances, as she would be honest with prospective employers about her situation. They had decided to leave the academic world long before this episode because the competitiveness and political environment of university life was not for them. Emma is devastated that her good name at Durham and Zurich University will be forever tarnished by this affair.

My husband and I have felt so sad and so helpless as these events have developed – when I saw your comment that was sympathetic to Emma's plight, it was the first bit of humanity I had witnessed in the whole affair, and I am grateful to you for that. Emma will get through this, she is resilient and has the support of her husband, family and friends – but we feel so angry that Emma has been subjected to this through no fault of her own.

Once again thank- you,

Best wishes,

Mary-Anne Drinkel
Yes, at least one grave mistake has been made. And every chemist is wondering: how common is this?
But – I kindly ask you to please think twice before you go out flaming people. Two wrongs don't make a right. Who is the bad guy here? Perhaps the one who instructed someone to do something very unethical, and not the person who apparently did not do it, no?
Reto Dorta, would you please step forth?