Take a long good look at this reaction, recently reported in a respected journal. Have you ever seen anything like it? "Unusual formation…" — an understatement of the century, if you ask me. What the Hell is going on here? A porphyrin-ish type material spitting out a C7H5 unit (a toluene minus a handful of hydrogens). If I was teaching a course right now, I would be tempted to use this on the final exam and ask the students for a plausible mechanism. Hehe.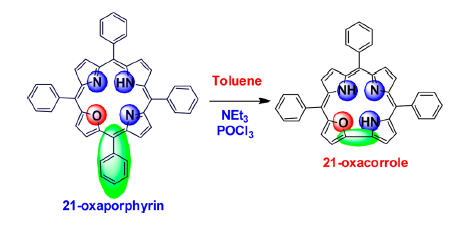 Org. Lett. 2013, ASAP (DOI: 10.1021/ol303527v)
No but seriously, I have read this paper over and over, and it leaves me with very little doubt that they indeed assigned the correct structure for this highly unexpected product. I mean, it is difficult to argue with X-ray data. Let us just for now assume that the authors got the characterization part perfectly right.
Scheme 3, however, is in my humble opionin deeply unsatisfactory. There are at least two things that annoy me: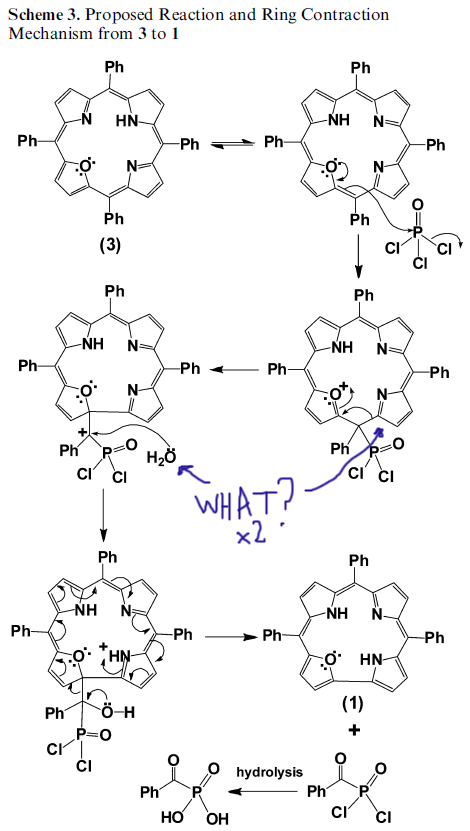 The proposed mechanism requires 1 equivalent of water under strictly anhydrous conditions (excess POCl3, EtN3 under N2). That is not pretty at all.
That 1,2-shift — the key step — just does not make any sense! Why would that electron-deficient bond do that? The way they have drawn it, it is impossible to draw a resonance structure in which electrons push that bond over (as you can do in for instance the pinacol rearrangement).
One could always argue that the driving force for the overall reaction lies in the lower energy of the product. Fine. Still, that does not justify the abuse of curly arrows! Now, let us fix this one, shall we?
I have spent a reasonable amount of time coming up with a decent alternative. Before showing off, I would love it if you would go ahead and post your ones first. @Heterocyclist56 and @jamesashchem, I dare you!
All of you: Feel most welcome to draw a better mechanism, upload it to any image sharing page (such as but not necessarily restricted to imgur.com) and post the link to it down below.
Go, go gadget arrows!