P450 enzyme CYP2D6 is of importance in medicinal chemistry, pharmacology and medicine. It belongs to one of the major group of liver enzymes that metabolize drugs (and other crap) that float around your system. For several reasons, CYP2D6 is especially troublesome for scientists working with discovering new drugs.
To name one such reason, the individual variation of CYP2D6 expression among the human population is very high. In other words, a certain drug that is primarily eliminated by CYP26D may have a half-life of say 4 hours in one patient, but 0.5 hours in the other, at the same dose and route of administration. The pharmaceutical industry hates these things. So do doctors. They want complete control. In this case, I take their side.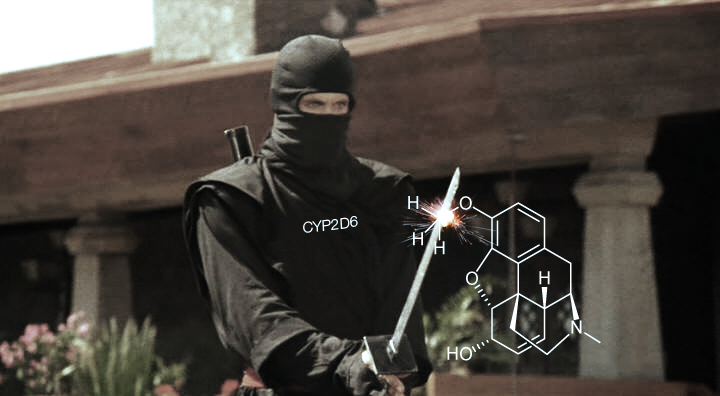 One of the most classic CYP2D6 substrates is codeine, an opiate used in managing mild to moderate pain. Most often, it is used in combination with an NSAID or acetaminophen (paracetamol), because of their synergistic effects. Such combination medications are available in almost every country in the world.
Whether codeine is a drug or a prodrug is debated. Long story short: When you ingest codeine and it enters your blood stream, the first thing your liver tries to do is breaking it down via so called first-passage metabolism (if taken orally).
Now, here comes the funny part, where your body gets a little more action than it was aiming for. In trying to protect you from codeine, the evil intruder, your liver decides to chop the molecule in pieces. Armed and loaded with CYP2D6, the liver knocks off a methyl group (vide ninja). But the result is, as you know, morphine – an opiate 5-10 times stronger than codeine itself. Dang.
Presumably, the pain relief — and the not completely unpleasant buzz — that you get from codeine is due to the fact that your body partly (5-10 %) converts it into morphine, which enters your central nervous system, finds opiod μ-receptors and yada, yada…
10-15 % of the population, however, report no positive effect whatsoever from taking codeine. This is consistent with findings that roughly the same number of people have significantly diminished levels of active CYP2D6 enzymes. In other words, 1 in 8-10 people have little or no use of codeine. A major hassle for this patient group is that the typical physician is quite reluctant to prescribing anything stronger for everyday pain conditions. Hence, these poor souls risk suffering more pain in life than necessary.
I happen to be at the very other end of the spectrum. Hehe. We select 1-2 % go under the name ultrarapid CYP2D6 metabolizers. (And it sounds cool too!) I haven't had my genes mapped, so I cannot be entiery sure, but still I feel fairly certain.
For reasons I will not go into, I have been prescribed both codeine and morphine, separately, at several occasions. I know what 10 milligrams of morphine feels like. I also know what 60 milligrams of codeine feels like. The latter is the standard dose used to treat for instance toothache, migraine and other half-decent pain conditions. You don't get morphine for these. But I do. Sort of.
Because — believe it or not — 60 milligrams of codeine has in my experience and body much more oomph in it than 10 milligrams of morphine. I would even go so far as to say peroral codeine is stronger than intravenous morphine. In me. So yeah, I am pretty sure my liver is unusually loaded with CYP2D6, and that it is damn active too.
Finally, I hope my doctor never read this. "Hi. My name is Fredrik, and I am an ultrarapid CYP2D6 metabolizer."