I love it when you limit your SciFinder search to one discrete synthetic step and find reactions such as this. Yeah, I'm being a bit sarcastic.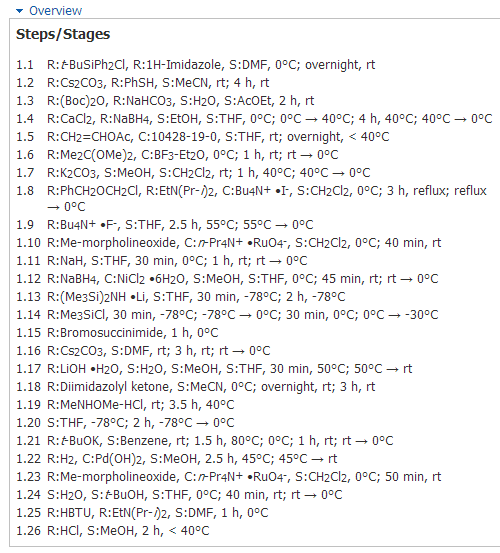 Update
OK, in a matter of hours I managed to get their attention on Twitter. As an organic chemist, I find this discussion (below) quite bizarre. How can one step contain 26 "stages"? Has anybody ever heard a chemist say "Look, I transformed A into B in one step, but it required 26 stages"? Has a chemist ever used the term "stage"? Would any journal accept such a transformation with "One step synthesis of…" in the title? I don't think so.
@SyntheticRemark That's a multi-stage, single-step reaction. If you're interested in details, call us. https://t.co/MClqhm3gUr

— SciFinder (@SciFinder) February 27, 2014
@SciFinder Right. Could you please in detail describe the difference between a step and a stage?

— syntheticremarks.com (@SyntheticRemark) February 27, 2014
@SyntheticRemark Our experts in the CAS Customer Center are more than happy to describe how they differ. Give us a call.

— SciFinder (@SciFinder) February 27, 2014
I'm very tempted to place that call.