As a scientist and unrepentant skeptic, it isn't so often that my interest is piqued by spam mail. Although my inbox gleefully assures me that secret advances in penis enhancement guarantee that I will meet thousands of willing and available brides from locations spanning the globe, it is rare indeed that a misspelled subject line warrants as much as a casually raised eyebrow on my part. So when both eyebrows met each other in a quizzical salute yesterday morning it meant something incredible had happened on the internet.
That thing was raspberry ketone. I guess I am just too late to the party, because it has taken me more than two years to hear about the latest miracle pill, while the rest of the World Wide Web sheds terapounds popping something that immediately conjured up this in my head: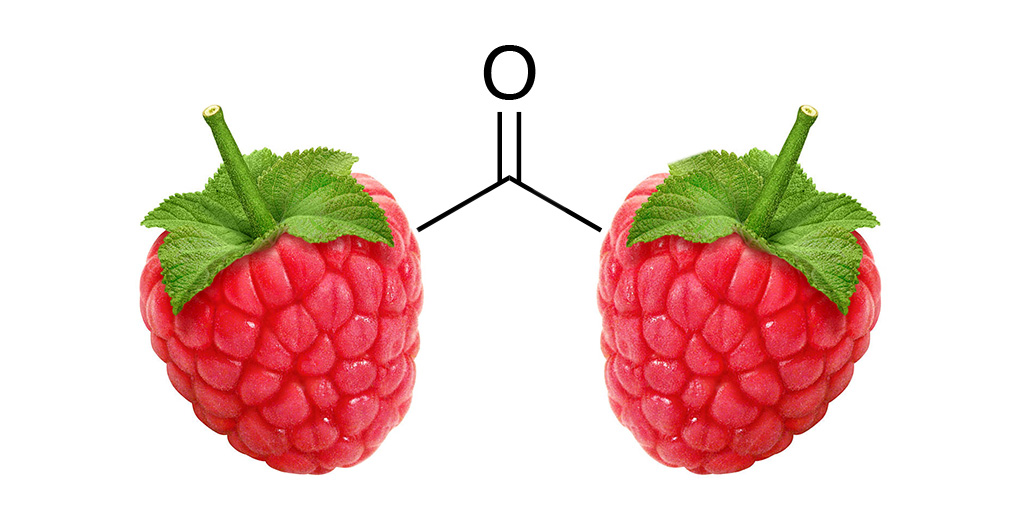 Unfortunately, reality once again disappoints when it comes to offering miracles. Raspberry ketone is nothing more than 4-(p-hydroxyphenyl)-2-butanone, an ordinary looking molecule if ever there was. Before being christened the savior of McDonald's menu hackers it was giving the recognizable odor to raspberries. Thankfully for all of those raspberry hedgers, in 2012 the infamous Dr. Oz declared the molecule a genuine fat burner, and with the power of Oprah behind him this lowly methyl ketone became break-the-internet famous. Of course, his weight loss science also includes advocating "small plates," so he may not be the go-to guru when it comes to fact-based medical opinions.
Anyhow. Does it guarantee weight loss? Well, how naïve are you? Have anthropologists ever discovered any tribes of magically ripped, raspberry-munching aboriginals hidden deep in the forests of a hitherto unexplored subcontinent? Have you ever wondered at how those raspberry farmers remain so ab-shreddingly fit? No, they haven't, and no, you haven't either. Because it is another scam. Dr. Oz based his recommendation on a total of two studies (and not some financial incentive – goodness, no) that were available to him at the time. Recently, a systematic review (Alternative and Complementary Therapies 2013, 19, 98-100. [DOI: 10.1089/act.2013.19201]) of the literature available classified the evidence behind the assertion that raspberry ketone has any effect on weight loss as "unclear or conflicting." Far from a glowing recommendation. In fact, the original weight loss publication was by authors Ushiki et al. around 2002 in the convincingly named journal, Aroma Research – which does not appear to be available online in any way, shape or form. Not that you should be suspicious, oh no! Beating all expectation, another group managed to print an almost identically named article in 2005 (Life Sciences 2005, 77, 194-204. [DOI: 10.1016/j.lfs.2004.12.029]) and from there it all snowballed. Did I mention that the only studies have been made in mice? Presumably because no human could be found that wanted to spend the $450 per day to ingest the 90 pounds of raspberries that would be needed to translate the science into humans.
So now I can go back to saving my money for V1AGGRA and all of the other wonderments that flash past my eye in the brief millisecond before they find my spam box. For the time being I will take my raspberries on a pavlova and not in a pill.
About the author

Alexander Munro is an educator and blogger at Immortal Pestle – dedicated to the savoury science of the kitchen.

^^ Check that blog out. Good shit! (DrFreddy's note)