Remember good old reaction #86? Our new paper about it, and a couple of analogs, is officially out today!
Tetrahedron Lett. 2011, 52, 4558-4561. (DOI: 10.1016/j.tetlet.2011.06.092).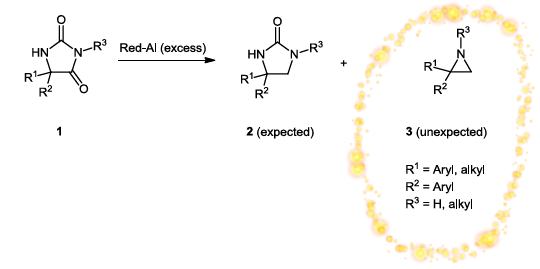 By serendipity, we discovered that hydantoins 1 could be transformed into aziridines 3 in one step upon treatment with an excess of Red-Al.
Take-home message: Pay attention to your unexpected by-products, especially if they show up as one of the major peaks. From time to time, these may prove more interesting than your actual desired products.
By the way, do you like the mechanism we propose? Depicted in the paper is the one we favor for the time being, out of three or four possible alternatives we considered. Clearly, this needs more investigation before we can be certain what we are dealing with, but regardless of what is going on exactly, the fact remains: N-H aziridines are now only one step away from hydantoins!
We are forever in debt to those mentioned under Acknowledgements. Brilliant chemists, all of you.
If you for some reason cannot access this article, drop me an email and we will work something out.