We often think of and draw Grignard reagents like so:

Reactivity-wise and when we draw mechanisms, we sometimes make it even simpler for ourselves and picture Grignard reagents as relatively stable carbo-anions (even though the carbon-magnesium bond is in fact covalent and not ionic).
This works very well in almost all cases. But the true nature of Grignard reagents is much more complex than this. Their actual composition depend strongly on solvent, concentration, method of preparation, presence of additives (lithium chloride is really popular nowadays) and so on. In aprotic non-oxygen containing solvents, such as hexane or toluene, Grignard reagents form clusters of two or several equivalents of organomagnesium species (a little like borane (BH3), which in the blink of an eye dimerizes to diborane, even though it formally lacks enough electrons to form typical 2-electron single bonds). In ethers, such as THF, there is a strong interaction between the Grignard species and the ether oxygen. Moreover, one should pay attention to the often neglected Schlenk equilibrium that at times makes things even more complicated.
But there is yet another thing that we almost never talk about. The halide (chloride, bromide, iodide and, in rare cases, fluoride) so called spectator ion. Unless we just buy them ready-made, we prefer to prepare Grignards from bromides or iodides, because it is easier to get the initial reaction going, without really considering that at the end of the day, in some cases, the counter-ion may have a dramatic effect on the outcome of the reaction we are trying to accomplish.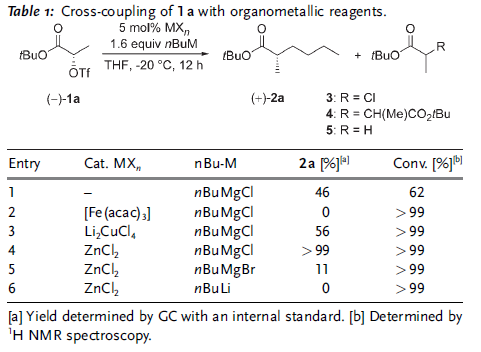 This table, which I have stolen from a fairly recent Breit paper (Angew. Chem. Int. Ed. 2008, 47, 5451-5455. DOI: 10.1002/anie.200800733), is a good illustration of what I am trying to highlight here.
In this specific publication the authors do try to explain the fact that a bromide counter ion gave 11 % yield after full conversion of the starting material (entry 5), while chlorides gave sterespecific (>99% ee) products in quantitative yields under optimized conditions (later in the same paper; Table 4 is pure beauty by the way).
In the given mechanism for this reaction (the story continues here: Org. Lett. 2009, 11, 4668-4670. DOI: 10.1021/ol901944b), the spectator ion is not even included as an integral part in the illustration of the proposed transition state, which tentatively explains why this specific reaction works so well and gives enantiopure products.
After reading these articles, I think I like organomagnesium chlorides more than I did before, even if they are a pain in the ass to prepare sometimes.
In an ideal world, the perfect scientist is an independent observer. The perfect spectator ion should live up to the same standards. I am so disappointed in you, Mr Bromine!