β-Nitrostyrenes can be used for many things. Such as making speed, meth and ectsasy. Yup, this one is for you, dear reader who came here via Google. Rougly 40 % of you search for "how to make speed" or something very similar, say my Analtyics data. So, feel most welcome, dear underground Sirs and Madams. (I give you what you want, not necessarily what you need.)
The most common route to β-nitrostyrenes has to be the Henry reaction, which is a classic variation of the Knoevenagel condensation, using aldehydes and nitroalkanes. Nitroethane and unsubstituted benzaldehyde give an intermediate that upon reduction yields amphetamine. Fans of PIHKAL and half-decent organic chemists know this story by heart already.
Correct me if I am wrong, but I do not think anybody in the community knows yet how to add straight ammonia to unactivated double bonds, which is why we have to resort to tricks like this to stitch carbons and nitogens together.
A curious reagent big-dog Alexander Shulgin sometimes used (uses?) to directly nitrate double bonds was tetranitromethane. A lovely little molecule that contains more oxygen per volume than liquid oxygen itself. It is known to go KA-BA-DANG if used improperly. I bet most of us would not touch it even for big chunks of cash. The byproduct, if everything goes according to plans, is nitroform, whose anion is aromatic (sic!), and whose salts are more or less unstable. Avoid.
Considering everything, my immediate thought as I saw this recent paper…


J. Org. Chem. 2013, 78, 5949-5954 (DOI: 10.1021/jo400598p)
… was: "I wonder if Jesse Pinkman reads the primary literature?" Check out for instance compound 4r in the following table… mhmm. There you go. The E:Z ratio is pretty irrelevant if your plan is to later hydrogenate the hell of out it.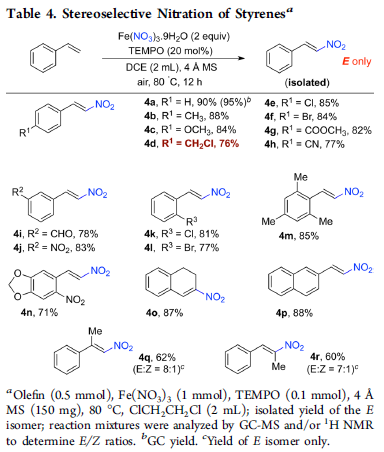 You know what I think? I think the underground has a new toy. Ferric nitrate.
P.S. It should be noted that a very similar reaction was reported simultaneously by the same group in a different journal. (Go h-index!)


Org. Lett. 2013, Article ASAP (DOI: 10.1021/ol401426p)
The funny thing herein is that the nitrating agent is instead tert-butylnitrite, better known to gays and non-scholars as poppers. Peace out.