I would be most surprised if anyone of you had heard of the Willgerodt-Kindler reaction before. It stinks, literally and figuratively. Don't get me wrong, the reaction works really well, but that is also its actual problem. The desired products are extremely undesired, if you know what I am saying. I have encountered many a badass compound in my days, I am fairly experienced in for instance sulfur-organic and heterocyclic chemistry (pyrrolidines… mmm…), so stuff that smell a little bad is nothing new.
Some compounds smell worse than others, however, and some even worse than that. If you ask me, the Willgerodt-Kindler thioamide products are in this regard numbero uno.
So, what is the Willgerodt-Kindler reaction? I wish there was a simple answer. Something like this perhaps. If you treat an aldehyde or ketone with elemental sulfur and an amine (or ammonium sulfide – which according to theory does not even exist), you get an amide. Or a thioamide. And as a bonus a migration of the carbonyl zero, one or two positions from where it was before. It is a mess…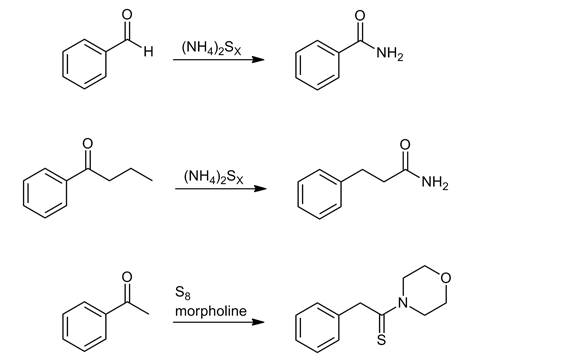 Sweet, huh? How about an arbitrary migration of the carbonyl, and amide products in some cases and a thioamide in other. Try to predict the outcome of these conditions applied on your scaffold. In addition, I believe that these products are a rare example of when the parent compound is responsible for the horrible smell, and not the fact that it might expel hydrogen sulfide or some like that. It is difficult to come to terms with the fact that a very pure solid can smell so bad. In fact, hydrogen sulfide smells like strawberries compared to some of these products.
One of my poor colleagues had to sleep on the couch after working one of these bastards up, even though our skills, facilities and equipment were first-class. Being in the same room as the compound in the day was enough to get him banned from bed in the evening.
The structure of the specific compound that we made then? It was taken from a paper that is not even available online. (At least not through the regular channels.) That is most likely something positive. Anything that makes it less probable that people will repeat its preparation is definitely good. So I will refrain from posting the structure here. If you must know, here is the literature reference:
Z. Naturforsch. 2004, 59b, 601-605. (DOI: not available, abstract here however)
You have been warned. Do not under any circumstances make compound 1 in this publication (there is your answer). It will make you regret becoming a chemist in the first place.