In 1972 Bruce Lee defeated Chuck Norris (here) and team Far East has been winning ever since. China is on a monumental roll. If we fast-forward to present day and for example summarize the table of contents for one recent issue of Synlett, we get (seriously, check it out):
35 Chinese articles
2 Japanese articles
1 Canadian article (by Chinese authors)
Denial is futile. This is what we have, move along.
The compound of the day is the natural product beauty-queen psychotripine (1), spotted in a fresh paper from – you guessed it – China:
Org. Lett., Article ASAP (DOI: 10.1021/ol202536b)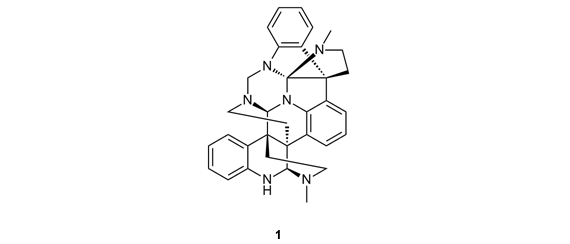 The story goes something like this. A compound was for the first time isolated and characterized. Due to its structural complexity, this took quite a while. Computers were needed. Since other compounds in the same class are known to be cytotoxic (i.e. potential anti-cancer drugs), the authors tested the activity of this compound in such an assay. It turned out to be inactive.
This may sound a little harsh, but science is almost always this unrewarding. This little story is pretty illustrative. We start with a well-founded idea, it takes us ages to prove or disprove it, and only in extreme cases are the results useful. This is why science is so damn expensive. There are no short-cuts to the absolute truth.
I would like wrap this one up with a glimmer of hope! Dear authors, I think your compound is active, although perhaps not exactly in the way you first thought. Screw cancer – enter CNS! Evidence:
Name: psychotripine – HELLO?!
Structure: I see phenethylamines.
Figure 1: you could not have come up with Figure 1 unless you were tripping balls.